Want to write to the actors?
Click here for addresses for the theatres and some letter writing tips.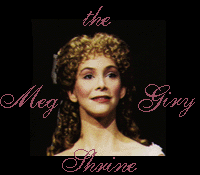 The site is devoted to all of the women who have played the little rebelious dancer, Meg Giry. Meg is the daughter of Madame Giry, the ballet mistress and also one of the best dancers at the Paris Opera House.

Interviews and Playbill Blurbs