Music:
Phantom Pages
Kiri Te Kanawa
Geraldine Farrar
Musicals Casts
The Phantom Faces Webring


Star Trek:
Funny Lists
Voyager Parodies


Personal:
Trip to France
Trip to Germany, France and Austria


Misc.:
More Links
Sound Wavs
My mailing lists
Misc. pictures
essays on life


Made By Me:
The Godseys
Trinity Church
My Old HS Site
Siberian Husky
Club Homepage


This Site:
MessageBoard
Disclaimer
Webrings
Sign Guestbook
View Guestbook
Old Guestbook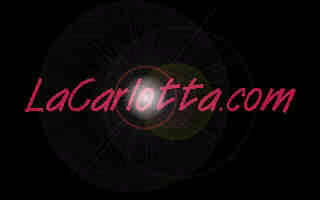 Hello, and welcome to LaCarlotta.com. This is my personal website where you'll find tons of interesting (I hope) things to occupy your time. For easy surfing, the links to a bunch of my pages are on your left. If you're looking for the Carlotta or Piangi Shrines, you can find them here.
NEW! I just added a new message board. You can access it here.
I love musicals, especially Phantom of the Opera, Elisabeth, Les Mis and Ragtime.
I also love the X-Files , Cheers, and Star Trek: Voyager. However, at the moment I am completely obsessed with Babylon 5. I hope to put up a website with quotes form the show soon.


I just graduated with my MA at the ESIA, at GWU. Now I've gotten my first job as a Research Assistant.
| | |
| --- | --- |
| I graduated in 2002 from the University at Buffalo. | There's this awesome thing called the Darwin Awards. What are they? Awards given to people who contribute by doing some stupid act that removes them from the gene pool. You must read some of the stories at this site. Click on the picture below to get to the site. |
Yes, I have a picture of me here! It's from Toronto in 1996. For an updated picture, click here. I'm the third from left. The other people are my friends Liz, Kate and Andrea on our way to Washington D.C. NOTE: There ARE newer pictures of me in the photos from my trip to Nice! You can see a picture of me after I graduated with my MA by going to this link.
Want to hear a wav of me sing (badly)? Just point your arrow thing here to hear it. You probably can't understand the words though! (In case you're wondering, it's "We Can Never Go Back to Before" from Ragtime). My screename on AOL is MjrHoulihan. So if you're on, IM me!
Last Update: November 30
1996 - 2004 carlotta@lacarlotta.com