Want to write to the actors?
Click herefor addresses for the theatres and some letter writing tips.
Find out which character you are most like here.
Last updated 1 October 2007.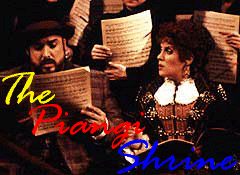 This site is devoted to the nicest character in Andrew Lloyd Webber's "Phantom of the Opera." Ubaldo Piangi is the principal tenor at the Paris Opera House and also, according to most, the beautiful diva Carlotta's love interest.
Here's what an audition notice says about the character:
Ubaldo Piangi: Late 30's – 50's. The opera's leading tenor, Italian style singer, sings to high C. Requires opera training.

Updates: NYC Piangi

Interviews and Playbill Blurbs
Shingo Akedo
Current Japan Piangi
John Aron
(bio) Original London (1986-1991?)
Ravil Atlas
(bio) Former San Fransisco
David Bexon
Former London (October? 1988 - ?)
Torrence Blaisdell
Former NY understudy
Chris Bohannon
New York understudy
Lee David Bowen
Former London (July? 2000 - August? 2001)
Richard Braebrook
(bio) Former London
Daniel Brenna
Current/original Essen
Paul Brodene-Smith
Former London (1999?), Former Hamburg alternate
William Scott Brown
Former NY and 1st Nat'l Tour understudy
Erick Buckley
(bio) Former NYC and Tour understudy
Mark Calkins
(bio) former Music Box Tour
Mark Clear
Former Copenhagen
David P. Cleveland
Former NY and 1st Nat'l Tour understudy
Donn Cook
(bio) former Raoul Tour
Maurizio Corbino
Former NY understudy (for almost 10 years)
Peter Cormican
(bio) former London (May? 1996 - ?), Far East Tour, Original Toronto
Marcus Desando
Current South Africa Tour
Frederick Donaldson
(bio) Former Toronto
Hans Dornbusch
(bio) Former Basel, Stockholm, Stuttgart, UK Tour and Copenhagen
Bruce Ewing
Las Vegas understudy (6/06 - ?),
Enrique Ferrer
Former Madrid
Mark Fowler
Seoul (World Tour) understudy
Ray Friedeck
(pictures) Former Music Box Tour
Stefano Fucile
(bio) former Raoul Tour
Bonifacio Galvan
Current/original Essen alternate
David Gaschen
Current NY understudy
Ferenc Gerdesits
Hungary
Stephen Gould
Former 1st National Tour
Sigurdur Gudmundsson
Former Copenhagen understudy
James L. Guthrie
Former 1st National Tour understudy
Shunichiro Hanba
Japan (2005)
Michael Scott Harris
MB Tour understudy (September 2007 - ?)
Jim Heath
(from Jim) Former London (October 2003 - October 2004)
Frederic Heringes
(bio) Former Broadway, Music Box Tour
David Hillman
(bio) Former London (Novermber? 1997 - ?)
Wayne Hobbs
(bio) Current Broadway (August 2007 - ?)
Bernard Hull
Seoul (World Tour) understudy
Kenzo Ishii
Japan (? - 2005)
Patrick Jones
(bio) Former Broadway
Masayuki Kurata
Former Japan
Adriaan van Limpt
(bio) Former Dutch
Peter Lockyer
NYC understudy
John MacMaster
(bio) Former Toronto (1995 - 1996) and NY
John Marshall
London understudy (2002-2003)
Frank Mastrone
New York understudy
Larry Wayne Morbitt
(bio) Las vegas (6/06 - ?), former NY (? - 3/29/06), former 1st Nat'l Tour understudy
John Horton Murray
Former NY
Gualtiero Negrini
(bio) Former San Fransisco
Alexander Sascha Nikolic
Current/original Essen alternate
Gale Oxley
(pictures) Former Raoul Tour
Fernando Palazza
(from Fernando) Sao Paolo
Peter Pankotay
Hungary
Kenneth Posey
Original Basel, Hamburg
Stephen Price
Las Vegas understudy (6/06 - ?),
Huw Priday
London (early? 1995 - ?)
Richard Warren Pugh
Former NY understudy (original cast member)
Karsten Redlich
Former Copenhagen understudy
Ramon Remedios
(bio) former Dutch and London (August? 1991 - 1994?)
Gary Rideout
(bio) former Toronto and Broadway
David Romano
(bio) Former Oringal New York and Original Hamburg
Marcello Ronchietto
Original Stuttgart, Former Copenhagen and Hamburg
Istvan Rozsos
Hungary
Roland Rusinek
(bio) former NYC (3/31/06 - August 2007), Former Toronto
Sal Sabella
Former MB Tour understudy (? - 9/2007)
Nicolas F. Saverine
(bio) Former Dutch and NY
Frederic S. Scheff
Former 1st National Tour understudy
Sal Sebella
Music Box Tour understudy (5/06 -?)
Jeremy Secomb
(bio) Former London (August? 2001 - December 2002?)
Charlie Serrano
(images) Canadian International Touring understudy
Jimmy Smagula
NYC understudy, former 1st National Tour understudy, former MB Tour understudy
David Smeltzer
(bio) Hamburg Alternate
Steven Stein-Grainger
(bio) Music Box Tour, former Toronto
Jan-Ate Stobbe
(bio) former Dutch understudy
Rohan Tickell
Current London (October? 2004 - )
Patrick Togher
(From Patrick) former Sydney, Brisbane and London (May? 1997 -?)
Rudi de Vries
(bio) former Dutch understudy
Brent Weber
(bio) Former Toronto
John Whitney
Current Music Box Tour